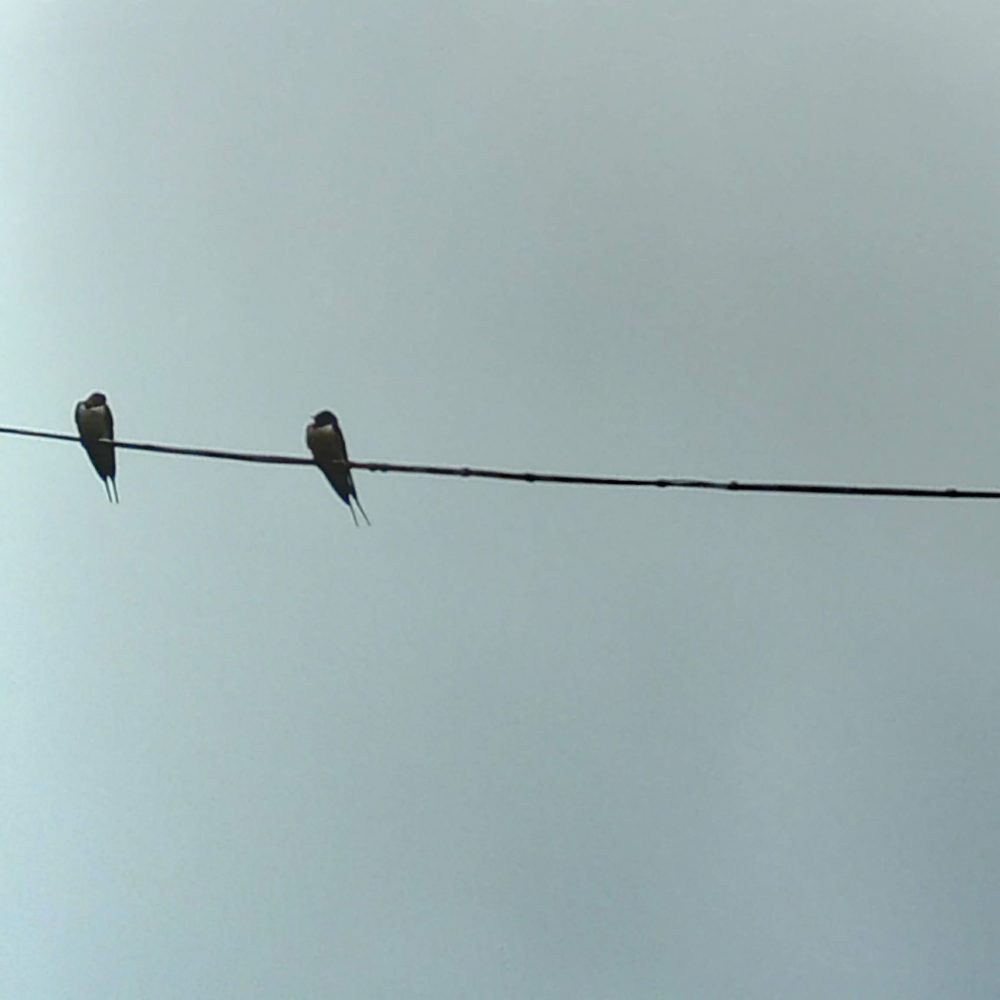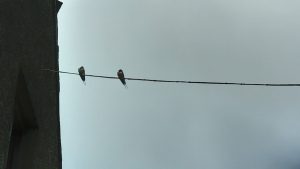 I saw the first Swallow arriving today. Swallows I should say, for it is rare to see them alone. They are together and they have come all the way from Africa to find a home in my backyard. With my own travel restricted, there is a wild exoticism about Swallows this year. 
Knowing they have travelled so far makes me envious of the expanse that I long for. 
They dart and swoop across the sky of my yard. Their flight gloats to me of the vast shimmering bodies of ocean over which they have flown to build their nest with me in landlocked Laois. I look at them and see the desert sands of North Africa, I see rushing waterfalls and rainforest greenery. I see the kodak colours of a Morrocan bazaar. I see mountains meeting clouds in snowcapped surrender. I see everywhere but here. 
These tiny determined bodies brag of bold adventures without need for vaccination waiting or quarantine on arrival. Here they are, without even a hint of prior clearance or approval, catching their evening meal as the sun takes its time lowering in the sky of my backyard.
Last year we tried to prepare for their imminent arrival by rolling out chicken wire under our shed roof, where for generations swallows have checked in on arrival. We had moved in on their territory having started a small market gardening business. We had no way of applying to the swallows for a 'change of usage' of the shed space, so we pressed on clearing out the wood stores and removing old machinery to make space to prepare weekly veg boxes. In our first season it didn't take long for us to realise that swallows nesting above and vegetables resting below was not a winning outcome for the vegetables.
A swallow solution was required. We settled on prevention being far better than wiping bird poop off vegetables.
In late Spring my husband and my father worked together to roll out the wire, wrestling and stapling it into place as they teetered on top of ladders and tables, while no doubt the swallows enjoyed the view somewhere over the Mediterranean.
At last, the flock arrived in earnest expectation of their usual nest building action beneath our shed roof. Not only was their homing instinct more powerful than our fumbling attempts with wire and staples, but their bodies were much slimmer than we had given them credit for. We searched for gaps in our wire work and tried to add another staple here and there. Yet still every other day there was the sound of frantic wings beating on wire as we walked towards our shed.
I looked up one day to this disturbing sound and watched with painful curiosity as these creatures navigated the obstacle we had created. Two swallows were caught above me, entrapped behind the wire mesh where they had hoped to find their seasonal welcome. I watched wide eyed wings flapping against their captivity. I winced as their bodies writhed and darted in panic seeking freedom. I exhaled in relief as I witnessed one escape. But not a moment later the freed swallow returned, flying in close to the wire again. Hovering, darting, landing. It dawned on me that he, or she, was communicating with fervor and patience.
The freed swallow persisted in this dance of companionship until at last their mate found a way out.
Clearly the wire was not working as we intended. Long sticks of bamboo were used with great remorse to poke down the early foundations of these travel weary birds' persistent attempts to find rest, and toilet facilities, above our veg packing tables. 
Swallows are excruciatingly resilient and remarkably fast at building and our discouragement was no match for these tenacious travel savvy birds. In the busyness of our Summer gardening season gaining pace we missed one mud-ball of a swallow home in a far corner of the shed. My husband, ever on the side of St. Francis, climbed a ladder and stretched his arm up with phone in hand to survey the scene before I was permitted to go near with a pole. The bright glare image showed us a nest full of offspring. The nest would remain.
My husband watched the Swallow parents frequent their hard won nest as he washed carrots and bunched scallions below them. It wasn't long before he took pity on their slim bodies squeezing through holes in the wire to reach their children. In an epic admission of defeat he got up once more on a ladder. This time with wire cutters in hand he cut the wire around the swallow nest peeling it back in an arc of acceptance of their rule in this kingdom of our yard shed.